You are here

Retirement Planning Tips for Your 40s and Beyond
Retirement Planning Tips for Your 40s and Beyond
Submitted by JMB Financial Managers on July 27th, 2020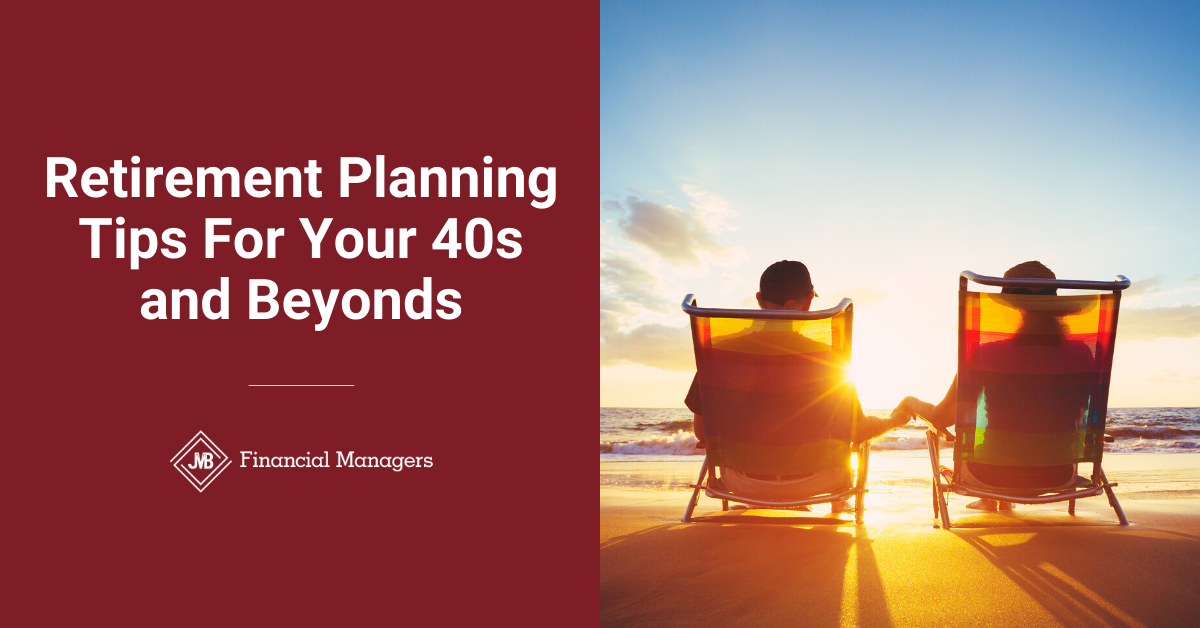 When it comes to planning for retirement it's never too late to get started. At JMB Financial Managers we recognize that despite our best efforts, sometimes life gets in the way our retirement planning and savings efforts. No matter what your current situation is, we've got retirement planning tips to guide your through your 40s and beyond.
Saving for Retirement in Your 40s – It's Not Too Late
Did you know that 75% of Americans in their 40s are behind on their retirement savings? The good news is it is never too late to start saving. Although saving for retirement in your 20s and 30s is highly recommended by most financial professionals, it is often put on the backburner or simply isn't a financially suitable option at the time.
Typically, people in their 40s have more financial flexibility to be able to put away money for retirement and have more motivation to do so. People in their 40s tend to have a stable career, be settled down, and, most the time, have children. This is a great opportunity to begin saving for retirement if you haven't already done so. Don't know if you're behind in retirement? We can help you figure it out!
Higher Income, Increased Retirement Savings
A stable career means a higher income therefore the more you can put into a retirement account. Your 40s are generally looked at as the best earning years of your life; an important issue to note is that as your income increases your consumption may increase as well. Developing good spending habits while you're young is crucial to keep you on track as your income grows.
The best way to save for retirement is a paycheck deduction; if you never get the money, you never miss it. This allows you to grow your retirement fund without cutting into the money you need to pay bills and maintain your lifestyle.
Max Out Your Contributions
Now is the time to take advantage of being able to max out your IRAs and 401(k)s; this includes employer matching. Many 401(k)s continue to increase the contribution rate each year which allows you to put more away every year; take advantage of this until you're maxed out.
Plan, Don't Just Save
Retirement isn't all about saving, it is important to have a plan in place for your retirement years and the years leading up to it.
Revisit your debts. If you have any outstanding debt, use any extra available funds to pay it off. You shouldn't enter retirement trying to shoulder the burden of debt with a reduced income; it should be taken care of long before that.
Evaluate your taxes. Make sure you're staying on top of your tax situation and contributing to your retirement funds accordingly to reduce taxes now and in the future when you want to withdraw from your accounts.
Pick a retirement age. Do you have an ideal retirement age? If you do, you should base all your retirement goals off it. If you don't, you should evaluate when you think you'd like to retire. Maybe you have enough saved and want to retire early? Do you want to retire as soon as you turn 65? Or are you passionate about your career or have a financial need to work past age 65? These are all questions to ask yourself and figure out a suitable retirement age for your situation.
Although many haven't started yet, 40 is a great time to start saving or increase what you're putting into retirement. Don't fool yourself into thinking if you haven't started yet it's too late. It's never too late, get started or increase your savings efforts. If you feel like you're behind in your savings efforts, reach out to us today to discuss your retirement planning options.
Planning for Retirement in Your 50s
When you reach your 50s, retirement is no longer so far off. It's right around the corner and there's no time to waste. Just like every other stage of life, your 50s bring certain steps you should take in order to begin preparing for retirement.
Evaluate Your Retirement Savings
Retirement savings should be at the top of your priority list. Questions you should be asking yourself include the following: How much do you have saved? Do you have enough? Do you need to save more? What are your options?
Higher Income, Higher Taxes
Many people experience their highest level of income during their 50s. Earning more leaves you exposed to more taxes. A financial professional can assist you in ways to reduce the burden of taxes, allowing you to save more for your retirement years.
Catch-Up Contributions
Life has a tendency of throwing us curves and making us rearrange our priorities. If life has gotten in the way and you've fallen behind with your retirement savings, individuals over the age of 50 have the opportunity to make catch-up contributions in order to compensate for missed contributions in prior years. Different types of retirement accounts have different catch-up contribution amounts.
Evaluate Your Expenses
As stated before, this is the time you should be making catch-up contributions, not slacking on your saving efforts. It is more important now than ever before to not let expenses get in the way of your retirement. Budgeting is a great way to get a feel of where your finances are at and keep them on track.
Evaluate each of your expenses and determine if any of them can be eliminated or reduced. A newer trend altering retirement savings is the increased number of adult children moving back home; be sure to evaluate just who you are supporting and how long you plan to do so. Supporting others before and during retirement is fine, if you've planned for it.
Although it seems expenses just accumulate as the years go on, it is crucial to continue saving the amount that will deliver you a comfortable retirement, create a budget or speak with a financial professional if you're in need of additional help.
Keep Looking Forward
The most important part of saving for retirement is making sure you're saving enough. In order to do this, you must have a clear idea of what you want your retirement years look like. Evaluate not only your basic needs but also all the things you'd like to do during retirement. Having a better picture of what you would like to accomplish will help you successfully save for the lifestyle you'd like to have during your retirement years.
Preparing for Retirement in Your 60s
Although very late in the game, this is your last opportunity to seriously evaluate your retirement plan and see where you're at and where you're headed.
In the past, your sixties were the time in which the reality of retirement really set it. It was just a few short years away or you were already transitioning into the retired life. But as they tend to do, the baby boomers are paving a new retirement path, leaving people in their sixties unsure of just when they plan to retire.
The typical lifestyle 60-year-olds were accustomed to in the past is changing. Now more than ever before, people are pushing their retirement date back further and further. So, what should you be doing in your sixties to prepare for retirement? Whether you are putting retirement on the back burner or are happy to retire when you hit that golden age, we've got some ideas to assist you in being retirement ready.
Keep Working – Bring on the Encore Career
People are continuing their careers well into their 60s for a multitude of reasons. For some, it is simply the social aspect of going to work each day, for others, they enjoy their careers and don't feel the need or desire to give it up. But for some, they don't feel they can afford to retire quite yet. Regardless of the reasoning, retirement is coming later and later.
Some are continuing their previous jobs while others are making a career change and starting over with a new endeavor. No matter the reasoning or what career you'd like to pursue, if you have the ability and desire to do so, by all means continue working throughout your sixties. Your Social Security benefits increase every year you delay retirement, leaving you with more income when the big day comes.
Continue Saving and Investing
Just because you're getting close to retiring doesn't mean you should slack off. If anything, you should ramp up your savings effort while you still can. If you are still working, you can continue contributing to your company retirement plan and can continue to invest in individual accounts even after you retire. Continuing to invest is a great way to make sure you don't outlive your retirement nest egg.
Adjusting to a New Lifestyle
Retirement should be a smooth transition. In order to make it so, you should use the years leading up to it to prepare for it. Prepare for it financially yes, but in other ways as well. Try and imagine the type of lifestyle you want during your retirement years. Do you want to travel, volunteer, pick up a new hobby? The more you know, the easier it will be to transition into your retirement years.
Budgeting, as it is in every other phase of life, is especially important right now. As you transition from having a steady income to a, more than likely, smaller cash flow, it is important to have a good grasp on where you spend your money. If you happen to be a big spender, the years leading up to retirement are the perfect time to practice using your money in a more efficient manner.
In addition to cutting costs, make sure your retirement budget takes into account things such as medical expenses on top of normal everyday expenses, so that if the need arises it won't significantly impact your retirement savings.
The Transition into Retirement
Retiring should be easy and carefree, after all, you've worked your whole life for it! Make the transition into your retirement years smoother by preparing for it while you still have the time. Your sixties are the perfect time to get all of your affairs in order to make the transition into retirement as smooth as possible.
Retirement Expertise to Guide You Through Every Season of Life
Whether you're just getting started or you're nearing the end of your retirement planning days ready to take the leap into the golden years, we're here to guide you through it. Over the years we've helped dozens of individuals reach their retirement goals and we can help you do the same. If you have questions about your personal situation and what the next steps are please schedule a complimentary no-obligation consultation with a retirement expert on our team.
--
About the Author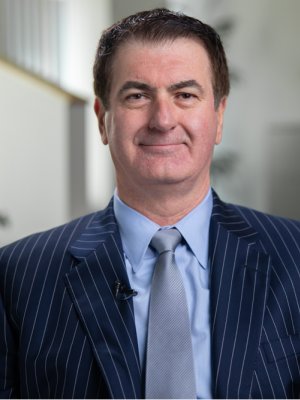 Jack Brkich III, is the president and founder of JMB Financial Managers. A Certified Financial Planner, Jack is a trusted advisor and resource for business owners, individuals, and families. His advice about wealth creation and preservation techniques have appeared in publications including The Los Angeles Times, NASDAQ, Investopedia, and The Wall Street Journal. To learn more visit https://www.jmbfinmgrs.com/.